In-House Bookkeepers or Outsourced Bookkeeping Services: What's better in 2020?
In-House Bookkeepers or Outsourced Bookkeeping Services: What's better in 2020?
Businesses rely on effective bookkeeping in order to analyze the business records and associated data. Now, this bookkeeping can either be done through an in-house bookkeeping department or with an outsourcing partner. Some business owners rely on in-house bookkeeping and accountants for the whole process while other business owners are more inclined towards outsourcing these services to ensure efficient bookkeeping.
Both these methods of bookkeeping offer distinct workflows during the management of business records. Similarly, both the methods of bookkeeping help the business in many ways. Here, we have outlined a few differences between the outsourced bookkeeping and in-house bookkeeping and what all do these bookkeeping methods offer a business.
Quality of Professionals
Whether you are hiring an in-house bookkeeper or if you are thinking of outsourced bookkeeping services, the quality of the professionals remains the top priority. You might want to look at the experience and their service delivery to other businesses in order to be sure of their credibility.
In most cases, the outsourced bookkeeping service providers turn out to be much better than an in-house accountant/bookkeeper or an in-house team. This is majorly because the experts who are employed at the outsourcing firms are always under training and are closer to the evolving technologies. They have a comparatively closer approach towards the industry standards and are well-versed with many tools and techniques which an in-house bookkeeper may not even have a clue about.
Thus, if we are to compare the quality or the professionalism between in-house and outsourcing services, this one is with the outsourcing companies.
Financial Reporting
Financial reporting is distinct for each business as it depends upon specific needs, industry considerations, monthly transactions, and a lot of other factors. Working with the in-house department for financial reporting can be a little problematic as they may not have the right skill set required for the particular function. If you go with an in-house bookkeeper, you will have to make sure that they have the required skill set to offer a month-end report that is accurate and free from any error.
An in-house bookkeeper has other job responsibilities as well. This averts the chances to complete investment in the core duty that they have been assigned. These reports are vital for a business owner and are helpful in taking decisions that are impact towards the business.
On the other hand, outsourcing these services can help in avoiding late or inaccurate financial reporting.With outsourcing, you can pick exactly what you are in need of. Outsourcing positively impacts the in-house processes as well as it makes the procedures streamlined for businesses.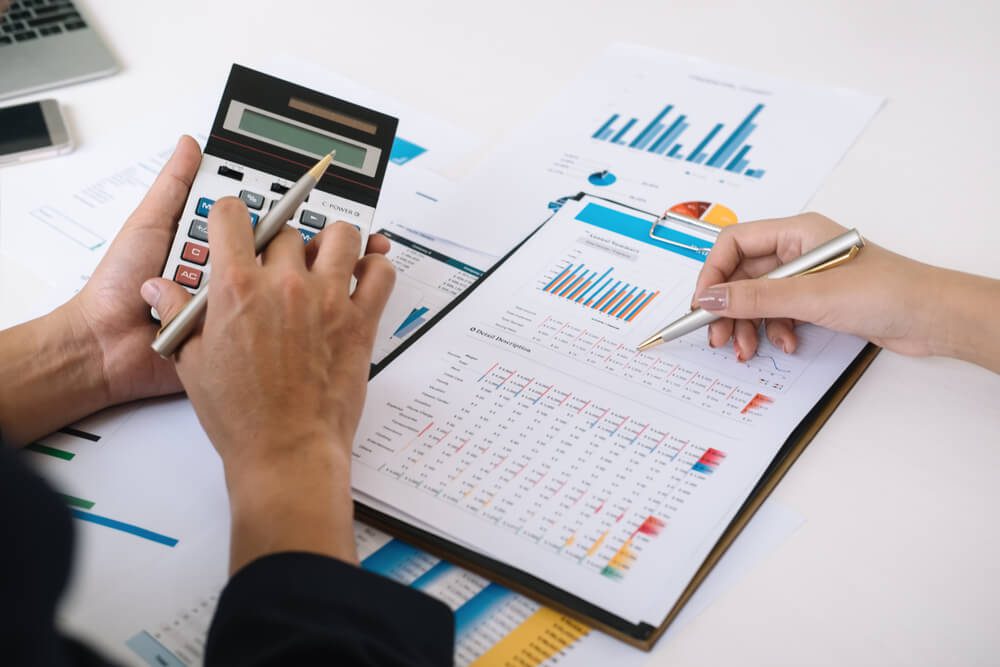 Financial Reporting can be on-time as well as accurate when outsourced because of trained and experienced professionals.
New to Bookkeeping? Know Everything Related to Small Business Bookkeeping
Cost-Involvement
When taking bookkeeping and accounting into consideration, cost becomes an important factor. Large businesses have ample capital for that but speaking of small and moderately-sized businesses, the cost involvement is a significant factor of consideration.
When you hire a professional for an in-house accounting or bookkeeping, you will have to pay them their respective salary and also, look after the additional overhead costs such as the payroll taxes, retirement plans, medical advances/benefits, training, etc. When hiring an in-house professional, it becomes mandatory for you to look after all these expenses but with outsourcing? Not so much!
From small to medium businesses, bookkeeping doesn't become a hard blow on your total expense. With outsourced bookkeeping services, you can save a significant amount of money which anyways would've been spent on managing the salary of an in-house accountant/ bookkeeper.
Internal Controls
There is another factor that is equally important in choosing whether to go for an in-house department or go with the outsourced bookkeeping services and that is internal controls. When you choose in-house bookkeeping, the chances of fraudulent activities increase. At times, there are cases of discrepancy in the records and the business owners may not be able to find them until it is too late.
Outsourcing, on the contrary, is associated with business accounting and there is a division of duties. In outsourcing firms, there are two or more professionals assigned to keep a track of the accounts and this ensures that the records are reviewed and maintained thoroughly, without any discrepancy.
Conclusion
We observed all the major factors that are distinctively handled by in-house departments and outsourcing firms. In all the scenarios, outsourced bookkeeping services have come across as more reliable and efficient in functioning than the in-house department. In today's times, when saving money is of utmost priority, it is not wise to invest a large chunk of your capital in hiring an in-house department especially when you get better results by outsourcing the same function.
Businesses from all across the globe have chosen outsourcing services as a reliable option for the maintenance of their cash flow and business records. This is time to make a wise choice and connect with an efficient and credible outsourcing company  for all businesses who have not done so already.