A Key Performance Indicator (KPI) is a reporting tool which measures a value that shows how effectively a company is achieving its strategic goals. It is a series of measurements of how a business is progressing in the medium and long term.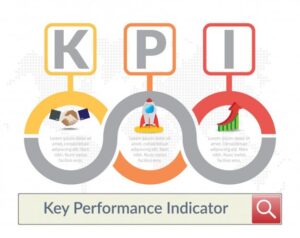 Objectives of KPI report :-
1. To monitor Company Health.
2. To measure progress.
3. To analyze patterns over time.
4. To solve the problems or tackle opportunities.
5. To make adjustments & stay on track.
Benefits of KPI report :-
Measures budgeted sales- KPI reports helps to provide the analysis on budgeted sales over the achieved sales during the specified period of time, which helps us to analyse the discrepancies.
Reduction of cost- KPI reports helps to reduce the cost by measuring the unnecessary expenditure over the necessary and helps to manage the cost for the future.
Retention of Consumer with product Satisfaction- KPI helps to obtain how the ultimate consumer is satisfied with the product and provides the retention ratio of consumer.
Satisfaction of workers– Workers are the key persons of any organization, KPI provides the checks on satisfaction level of workers during there work which helps to retain the worker for a long period for smooth working of the organization.
Improving Quality- KPIs help companies identify their strengths and weaknesses and how those traits line up with their objectives which increases in the overall quality of operation.
How KPI reports helps in different Sectors :-
Construction Company- Competition in the construction company at its boom, where KPI reports plays a vital role to determine the pace of cost which can be direct cost or indirect cost, it eliminates the unnecessary cost for future projects. It also helps to determine the target consumers to achieve budgeted sales.
Retail Sector- KPI reports analyze the purchasing behaviour of customers which provides the average transaction size and average unit per customer. That way, company will know about purchase trends over the year, or how effective sales teams are. It also helps to identify customer retention measures in the capacity of a retail business to generate recurring revenue from already existing clients' database.
Ecommerce Business- KPI report play a vital role in eCommerce business by calculating the conversion rate of visitors to sales. It also provides the critical metric that determines the success of website traffic which includes page views per visit, referring traffic source, time on site, bounce rate.
IT company- An IT KPI or metric helps to keep track of all relevant aspects of quality regarding an IT project. It also monitors the average handle time, server downtime which enhances your maintenance by controlling downtimes. It also analyses how fast you resolve different incidents and track the efficiency at solving issues.
In order to know insights of your business and identifying the KPI which are relevant to your industry, we at Whiz Consulting specializes in suggesting KPI which are relevant for your business and thereafter computing them, this will help you out in taking business strategic and operation decisions in most efficient way.